One of the best ways to maintain anonymity on an organization's public WiFi is to change the local IP address of the network.
This is especially needed in colleges and larger organizations in order to skip over data usage limits and over many other reasons. Learn How to Change IP Address but First understand what it is.
Your IP address can be provided in two main ways:
Automatically: Your computer is assigned an address using Dynamic Host Configuration Protocol (DHCP).
Manually: Your ISP or network administrator gives you an IP address, and you enter it in the Network pane of System Preferences.
Changing the IP Address of a PC is easy on any operating system and we, at Tech88 bring you a visual guide on How to change IP address on Windows PC and a Mac.
How to change IP Address on Windows 10
1. Click on the Ethernet or Wifi icon at the bottom right of your taskbar.
2. If you are already connected to the network, click on the name of the network and click on "Properties". If you aren't connected, connect to the network first and then click on "Properties".
3. The Network property Settings window will open.
4. Scroll Down to the part which says "IP Settings" and click on "Edit".
5. Click on the drop-down arrow beside "Automatic (DHCP)".
6. Click on "Manual".
7. Select the type of IP address you wish to set- IPv4 or IPv6.
8. Fill in the details like IP Address, Subnet Mask, Default Gateway and DNS address. A step by step guide to know about each of these is given below.
Note: Most IP addresses are IPv4 addresses, which look like a series of numbers separated by three full stops, similar to this: 123.45.67.89.

If you received an IP address that's a long series of numbers and letters, divided by seven colons (for example, fa80:0000:0000:0123:0203:93ee:ef5b:44a0), it's a different type of IP address called IPv6.
To enter an IPv6 address, in Network preferences, click Advanced. In TCP, change the Configure IPv6 pop-up menu to Manually, and enter your IPv6 address.
How to Know the IP Address, Sublet Prefix, Gateway and DNS of Your Network
1. Click on the search bar in the taskbar beside the Start button and type "cmd" and click on Command Prompt from the results that appear.
2. Type "ipconfig /all" in the Command Prompt Window and press Enter.
3. All the information relating to your IP Address will appear. Scroll down and you will find the IPv4 Address, Subnet Mask, DNS server and Default Gateway of your network.
Changing IP Address in Mac OS
Here's how to set a static IP address in OS X:
1. From the Apple menu, select System Preferences.
2. Select Network. The window shown below appears.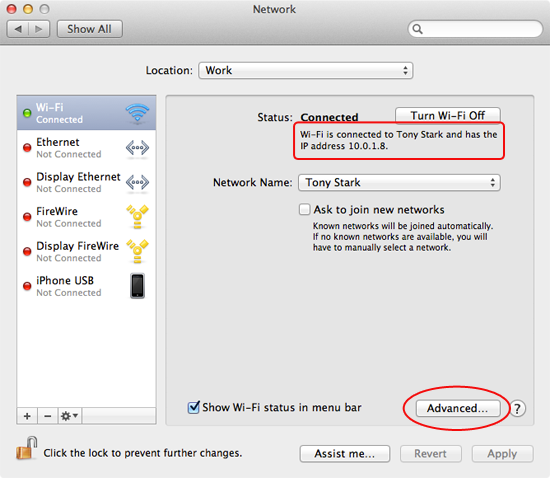 3. From the sidebar, select an active network interface. In this example, I'm connected to a wireless network, so I'll select Wi-Fi.
4. Make a note of the current IP address assigned to your Mac. You'll need to select a new IP address from within the private IP address range listed. More on that in a minute.
5. Click Advanced.
6. Select TCP/IP. The window shown below appears.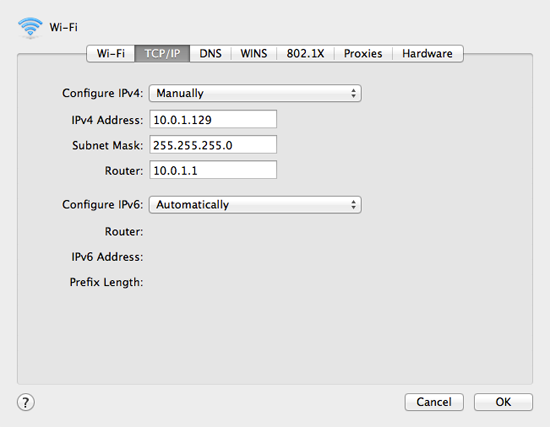 7. From the Configure IPv4 menu, select Manually.
8. Enter a static IP address in the IPv4 Address field. What number should you enter? One method is to take your current IP address and change the last part of the number. In this example, my current dynamically-assigned IP address was 10.0.1.8, so I picked 10.0.1.129. I could have picked any address between 10.0.1.0 and 10.0.1.255, as long as the address was not already assigned to another device.
9. Click OK.
10. Click Apply.
These were the steps to change your IP address in MacOS and Windows 10. Since these are the most used operating systems, these steps will be helpful to most people. Since Linux is fragmented into many sub- operating systems, discussing how to change the IP Address, isn't easy.
We would suggest commenting the name of the distribution of Linux below so that we can answer you with the relevant steps.